2005 Enlargement strategy paper. Communication from the Commission.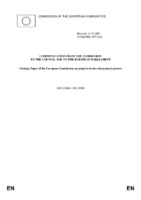 Author
Commision of the European Communities
Date
2005-11-09
View/Open
Abstract
Enlargement is one of the EU's most powerful policy tools. The pull of the EU has helped transform Central and Eastern Europe from communist regimes to modern, well-functioning democracies. More recently, it has inspired tremendous reforms in Turkey, Croatia and the Western Balkans. All European citizens benefit from having neighbours that are stable democracies and prosperous market economies. It is vitally important for the EU to ensure a carefully managed enlargement process that extends peace, stability, prosperity, democracy, human rights and the rule of law across Europe. After generations of division and conflict, the EU is peacefully creating a united Europe. Ten new members joined in 2004, and the EU signed an accession treaty with Bulgaria and Romania in April 2005. In October 2005, the Union opened accession negotiations with Turkey and Croatia, and negotiations on a Stabilisation and Association Agreement with Serbia and Montenegro. Each of these events was justified by the countries' progress in meeting the relevant conditions.
Number of pages
33p.
Language
English
Description
Related documents: SEC (2005) 1433 final to SEC (2005) 1426 final and SEC (2006) 1428 final.
COM (2005) 561 final
http://aei.pitt.edu/id/eprint/44646
Publisher
European Commission
Publisher place
Brussels
Collections