Association entre la Communaute economique europeenne et la Turquie. Troisieme rapport annuel d'activite du Conseil d'assocation a la Commission parlementaire d'association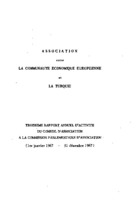 Author
European Commission
Date
1968-04-05
View/Open
Abstract
L•ann4e 1967 correspond à la troisième ann4e d'application de l'Accord cr4ant une Association entre la C.E.E. et la Turquie. Au cours de cette ann4e, l'activit4 de l'Associa-tion a 4t4 marqu4e par des d4veloppements importants. Dans le domaine commercial, le champ d'application du Protocole provisoire a pu §tre élargi par l'application de son article 6, qui a assur4 à la Turquie des facilit4s d'écoulement pour une série de nouveaux produits autres que ceux vis4s à l'article 2. D'autre part, les travaux concernant la globalisation des contingents tarifaires ont 4té entamés, cette globalisation étant d'ailleurs intervenue à la date du 1er janvier 1968 pour le tabac.
Number of pages
99p.
Language
English
Description
Association between the European Economic Community and Turkey. Third annual report on the activity of the Association Council to the Parliamentary Committee of the Association
http://aei.pitt.edu/id/eprint/42354
Sections are bookmarked.
Publisher
European Commission
Publisher place
Turkey
Collections