European Economy. The borrowing and lending activities of the Community in 1988. Economic convergence in the Community: a greater effort is needed.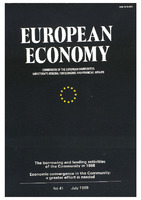 Author
Commision of the European Communities
Date
1989-03-15
View/Open
Abstract
The ecu is a ' basket-type' currency unit made up of specific amounts of Member St a tes' currencies, determined among other things by reference to the size of each Member State' s economy and fixed for a t least five years.
Number of pages
158p.
Language
English
Description
EU Series and Periodicals: ECONOMIC AND FINANCE:European Economy
Catalogue number: CB-AR-89-041-EN-C
No.41
Publisher
Office for Official Publications of the European Communities
Publisher place
Luxembourg
ISBN
0379-0991
Collections