Compendium of Community monetary texts 1986.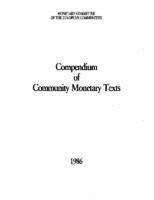 Author
Europenan Communities Monetary Committee
Date
1986-03-31
View/Open
Abstract
During the transitional period and to the extent necessary to ensure the proper functioning of the common market, Member States shall progressively abolish between themselves all restrictions on the movement of capital belonging to persons resident in Member States and any discrimination based on the nationality or on the place of residence of the parties or on the place where such capital is invested.
Number of pages
143p.
Language
English
Description
This publication is also available in the following languages: DE ISBN 92-825-6273-5 . FR ISBN 92-825-6275-1
Catalogue number: CB-46-86-137-EN-C
Sections are bookmarked. Blank pages have been removed.
Publisher
Office for Official Publications of the European Communities
Publisher place
Brussels, Luxemburg
ISBN
92-825-6274-3
Collections