LIFE Environment policy & governance projects 2008.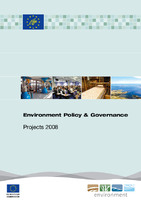 Author
European Commission
Date
2008-11-01
View/Open
Abstract
The European Commission has approved funding for 99 new environmental innovation projects in 19 countries under the LIFE+ programme's Environment Policy & Governance component for 2008. These projects will demonstrate new methods and techniques for dealing with a wide diversity of Europe's environmental problems. The projects are led by 'beneficiaries', or project promoters, based in Austria, Belgium, Bulgaria, Cyprus, Denmark, Estonia, Finland, France, Germany, Greece, Hungary, Italy, Latvia, Poland, Portugal, Slovakia, Spain, Sweden and the United Kingdom. They represent a total investment of €211 million, of which the EU will provide some €90 million.
Number of pages
107p.
Language
English
Description
http://aei.pitt.edu/id/eprint/45936
doi 10.2779/82464
Additional Information: Sections are bookmarked.
Publisher
Office for Official Publications of the European Communities
Publisher place
Luxembourg
ISBN
978-92-79-13424-1
Collections