Annex to the report from the Commission to the Council and the European Parliament on the implementation of Community waste legislation for the period 2004-2006. Commission staff working document.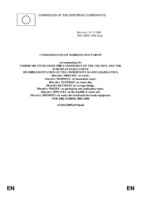 Author
Commision of the European Communities
Date
2009-11-20
View/Open
Abstract
The report is based on the replies of Member States to implementation questionnaires1. The details and analysis of the replies are contained in the reports prepared by Ecologic and published at: http://ec.europa.eu/environment/waste/reporting/index.htm.
Number of pages
15p.
Language
English
Description
SEC (2009) 1586 final
http://aei.pitt.edu/id/eprint/45397
Publisher
European Commission
Publisher place
Brussels
Collections