Synthesis Report on Structural Reforms in Member States.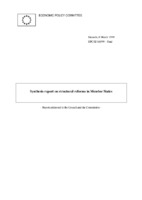 Author
Economic Policy Committee
Date
1999-03-08
View/Open
Abstract
This Synthesis Report is the product of a country examination of all 15Member States of progress made in the structural reform of product, service and capital markets, labour markets and long-term public finances.This is a new process which provides a peer review of Cardiff Economic Progress reports. It takes a comprehensive look at the reform process, provides "bench marking" comparisons between countries and gives examples of "good practice". It is intended to serve as an input to the formulation of the Broad Economic Guidelines.Structural reforms will support stability-oriented macroeconomic policy in promoting non-inflationary growth and a high level of employment. They will also raise living standards and employability.*Many encouraging reforms are under way; some countries are further advanced than others but there is plenty to learn from one another; the EPC should continue to examine "transferability" of good practice.Historical structures tend to favour "insiders" (those who already have jobs and own businesses) against "outsiders" (those without jobs and potential entrepreneurs). There is a need to change these structures if the EU is to match the performance of the US on jobs and growth or new technology.Structural reforms should be mutually reinforcing: more competition in services, for example, needs to be accompanied by tax-benefit reforms, better training and childcare. The result is an increase in employment and labour supply as well as improving longer-term fiscal sustainability and so keep its taxes down.
Number of pages
33p.
Language
English
Description
EPC/II/168/99 - Final
Report addressed to the Council and the Commission.
URI: http://aei.pitt.edu/id/eprint/75861
Publisher
EU Commission
Publisher place
Brussels
Collections