Promoting economic recovery in Europe. The Edinburgh Growth Initiative. Autumn 1993 review. Communication from the Commission.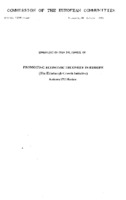 Author
Commision of the European Communities
Date
1993-10-20
View/Open
Abstract
The European Council, at its meeting in December 1992, launched the Edinburgh Growth Initiative aimed at promoting economic recovery and employment. The Initiative was clearly identified as being complementary to the continued observance of the economic objectives set out in the Maastricht Treaty. It was geared towards exploiting the available room for manoeuvre at both the Community and the national levels within this framework. Both the EcoFin and the Copenhagen European Council have since reviewed the Initiative's progress and the EcoFin, at its meeting of 19 April 1993, requested a further review in the Autumn to include details "of the conjunctural situation, of the effectiveness of the measures already taken and of the possible need for further measures to be included in national budgetsfor 1994". This paper addresses this request as well as two parallel requests, firstly that by the Copenhagen European Council to continue to attach the highest priority to the Initiative and secondly, the request of the current Presidency to consider a further deepening of the measures undertaken as a possible response to the deterioration in growth and employment.
Number of pages
52p.
Language
English
Description
SEC (93) 1599 final
URI: http://aei.pitt.edu/id/eprint/4710
Publisher
EU Commission
Publisher place
Brussels
Collections