Communication from the Commission on the implementation of the Community measures of the growth initiative.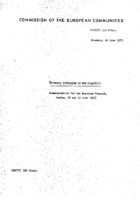 Author
Commision of the European Communities
Date
1993-02-10
View/Open
Abstract
Before the Edinburgh Council the Commission presented its ideas for an initiative to promote economic growth and reduce unemployment. This formed the basis for the agreement by the Heads of State and Government on the recovery plan for Europe. This initiative contains both national measures and Community measures that need to be put in place urgently for the initiative to have its desired effect on confidence and economic growth and employment. Its effect would be boosted by measures to improve the international economic environment and by a rapid conclusion of the Uruguay Round.
Number of pages
7p.
Language
English
Description
COM (93) 54 final
URI: http://aei.pitt.edu/id/eprint/4776
Publisher
EU Commission
Publisher place
Brussels
Collections