The economic and social situation in the Community. Working paper of the Commission to the European Council, 29-30 March 1985.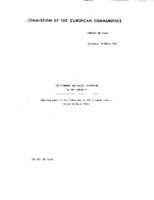 Author
Commision of the European Communities
Date
1985-03-19
View/Open
Abstract
At ·its last meeting in Dublin, the European Council underlined the priority given to the problem of unemployment. It considered that the guidelines uneploymented in the most recent Annual Economic Report should be speedily ...
Number of pages
5p.
Language
English
Description
COM (85) 88 final
URI: http://aei.pitt.edu/id/eprint/2834
Publisher
EU Commision
Publisher place
Brussels
Collections