The economic and social situation in the Community. Communication from the Commission to the European Council, 19-20 March 1984.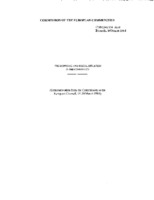 Author
Commision of the European Communities
Date
1984-03-14
View/Open
Abstract
This communication to the European Council embodies the main points set out in the document on the economic situation addressed to the Council (economic and financial affairs> and discussed by it at its meeting on 12 March 1984. It summarizes the assessments and economic policy guidelines which the Commission regards as being of key importance in pursuing the objective of restoring sustained growth and improving the employment situation.
Number of pages
10p.
Language
English
Description
URI: http://aei.pitt.edu/id/eprint/2802
COM (84) 154 final, 14 March 1984
Publisher
EU Commision
Publisher place
Brussels
Collections