The consumer conditions scoreboard. Consumers at home in the single market.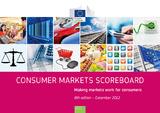 Author
European Commission
Date
2012-12-10
View/Open
Abstract
The Consumer scoreboard provides an evidence base for policy action and regula-tion that is driven by a better understanding of real outcomes for consumers. It helps policy makers to ensure that policies take better account of consumers' expec-tations and concerns, and to identify priority areas to be addressed in order to im-prove consumer conditions. Given that final consumption expenditure of households represents 56 % of the eu's GdP, improvements in consumer conditions can make a significant contribution to boosting economic growth in line with the objectives of the europe 2020 strategy. If consumers are able to fully play their role in the market, making informed choices and rewarding efficient and innovative businesses, they contribute to stimulating competition and economic growth. on the other hand, markets where consumers are confused, misled, find it hard to switch or have little choice will be less competitive and generate more consumer detriment, to the ex-pense of the efficiency of the overall economy. It is therefore important to identify which parts of the single market are not working well for consumers. this is the purpose of the Consumer markets scoreboard. as a second step, in-depth market studies of the sectors that appear to be underperforming are carried out to gain a better insight into the problems and identify possible remedies.
Number of pages
108p.
Language
English
Description
doi:10.2772/89716
URI: http://aei.pitt.edu/id/eprint/42578
8th edition.
Publisher
Office for Officail Publications of the European Office
Publisher place
Luxembourg
ISBN
978-92-79-21709-8
Collections