20th annual report on the implementation of the structural funds (2008).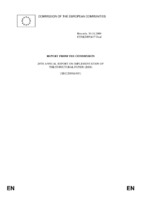 Author
European Commission
Date
2009-10-30
View/Open
Abstract
This report is presented in accordance with Article 45(2) of Regulation (EC) No 1260/1999 laying down general provisions on the Structural Funds. It covers the activities linked to Structural Funds 2000-2006 assistance during 2008. More detailed information is available in the Commission Staff Working Document (attached to this report).
Number of pages
13p.
Language
English
Description
COM (2009) 617 final, 30 October 2009
COM (2009) 617 final
Related document: SEC (2009) 1495 final.
Publisher
EU Commision
Publisher place
Brussels
Collections