Discover what the EESC can do for you.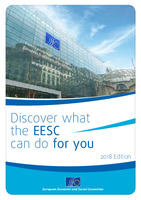 Author
European Economic and Social Committee
Date
2018
View/Open
Abstract
The EESC is not like other EU bodies. It is a unique forum for consultation, dialogue and consensus between representatives from all the different sectors of "organised civil soci-ety", including employers, trade unions and groups such as professional and community associations, youth organisations, women's groups, consumers, environmental cam-paigners and many more.
Number of pages
12p.
Language
English
Description
doi:10.2864/17221
Publisher
Visits and Publications
Publisher place
Bruxelles
ISBN
978-92-830-3978-5
Collections