Black Sea Regional Strategy
ESDP – A driver for an increased European responsibility for Black Sea regional security?
NATO-First? Why the Alliance has to lead to a new Wider Black Sea strategy.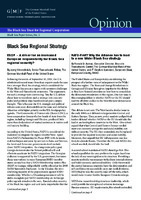 Author
Himmelreich, Joerg
Asmus, Ronald
Corporate name
European Commission / Directorate General for External Relations
Date
2007
Language
English
Description
The Black Sea Trust for Regional Cooperation. Black Sea Paper Series, No. 2.
Publisher
GMF - The German Marshall Fund of The United States
Collections