Communication from the Commission to the European Parliament the European Council , the Council , the European Economic and Social committee and the committee of the regions the European Green Deal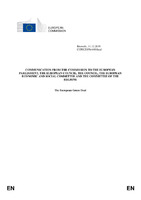 Συγγραφέας
European Commission
Ημερομηνία
2019-12-11
Περίληψη
This Communication sets out a European Green Deal for the European Union (EU) and its citizens. It resets the Commission's commitment to tackling climate and environmental-related challenges that is this generation's defining task. The atmosphere is warming and the climate is changing with each passing year. One million of the eightmillion species on the planet are at risk of being lost. Forests and oceans are being polluted and destroyed1. The European Green Deal is a response to these challenges. It is a new growth strategy that aims totransform the EU intoa fair and prosperoussociety, with a modern, resource-efficient and competitive economywhere there are no net emissions of greenhouse gases in 2050 and where economic growth is decoupled from resource use.It also aims toprotect, conserve and enhance the EU's natural capital, and protect the health and well-being of citizens from environment-related risks and impacts. At the same time, this transition must be just and inclusive. It must put people first, and pay attention to the regions, industries and workers who will facethe greatest challenges. Since it will bring substantial change, active public participation and confidence in the transition is paramount if policies are to work and be accepted. A new pact is needed to bring together citizens in all their diversity, with national, regional, local authorities, civil society and industry working closely with the EU's institutions and consultative bodies.
Αριθμός σελίδων
24p.
Γλώσσα
Αγγλικά
Σημείωση
COM(2019) 640 fina
https://eur-lex.europa.eu/resource.html?uri=cellar:b828d165-1c22-11ea-8c1f-01aa75ed71a1.0002.02/DOC_1&format=PDF
Εκδότης
EU Commission
Τόπος έκδοσης
Brussels
Συλλογές
Σχετικές εγγραφές
Προβολή εγγραφών σχετικών με τίτλο, συγγραφέα, δημιουργό και θέμα.
European Commission. Directorate General for Employment, Social Affairs and Inclusion

;

European Union. European Commission. Directorate General for Press and Information.

(

European Commission

,

2013-11

)

European Union. European Centre for the Development of Vocational Training.

(

Publications Office of the European Union

,

2008

)

European Union. European Commission. Directorate-General for External Relations.

(

Office for Official Publications of the European Communities

,

2007

)

This brochure presents an overview of the EU human rights and democratisation policy, including human rights promotion in the EU's legal system; tools and mechanisms under the Common Foreign and Security Policy (including ...