Fourth report on the activities of the European Social Fund - 1975 financial year. Report from the Commission to the Council and the European Parliament.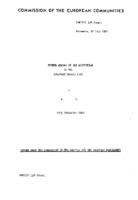 Author
Commision of the European Communities
Date
1976-07-28
View/Open
Abstract
Article 6 of Council Regulation (EEC) No 858/72 of 24 April 1972 on certain administrative and financial procedures for the operation of the Ehropean Social Fund stipulates that: "Every year the Commission shall, before 1 July, submit to the Council and to the Eh.ropean Parliament a report on the activities of the Fund daring the past financial year and on the development foreseeable in the coming three years in expenditure relating to measures taken pursuant to Articles 4 and 5 of the Council Decision of 1 February 1971 n
Number of pages
70p.
Language
English
Description
Chapter headings are bookmarked.
COM (76) 338 final
http://aei.pitt.edu/id/eprint/3923
Publisher
European Commission
Publisher place
Brussels
Collections