Expose sur l'evolution de la situation sociale dans la Communaute en 1962 (joint au Sixieme rapport general sur l'activite de la Communaute). juillet 1963 = Report on the development of the social situation in the Community in 1962 (annex to the Sixth general report on the activities of the Community).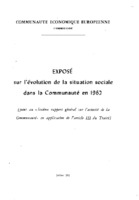 Author
Commision of the European Communities
Date
1962-07
Abstract
Le fait majeur d.e lf €volution d.e la situation sociare aucours d.e ltannSe 6cou16e a 6r,6r par contraste avec 1e rytbnegSnSralement un peu ralenti d.e ltexpansion conjonctr:.rel1e, lanouvelLe et forte auglentation ncninale d.es revenus saLariaur.Par ra3port 6, 1951 otr sarrf en Selgique et au la:xenbcurgr 1esmajoratlons de salaires avaient 6t6 d.6je trbs inportantes, lemouvenent d.e hausse srest n6me partout accentu6. cornme 1e nom-bre d.es salari€s occupds a lui-u0me, dans rtensemble d.e la com-ar.naut6, coirtinu6 d.e progresser sensiblenent, iI en eet r6eu1t6rn accroissenent considdrable du revenu brut d.u travail salari6,et une 61€vation appr6ciable d.e la part du revenu nationalSch6ant aux travaiLleurs.
Number of pages
319p.
Language
French
Description
Chapters are bookmarked.
http://aei.pitt.edu/id/eprint/32212
Publisher
European Commission
Publisher place
Brussels
Collections