Commission Report in accordance with Article 3 of Directive 2001/77/EC, evaluation of the effect of legislative instruments and other Community policies on the development of the contribution of renewable energy sources in the EU and proposals for concrete actions.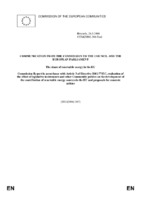 Author
Commision of the European Communities
Date
2004-05-26
View/Open
Abstract
As set out in the Green Paper on security of energy supply (2000), key priorities for European Union energy policy are to address the Union's growing dependence on energy imports from a few areas of the world, and to tackle climate change. Looking ahead to the next twenty to thirty years, the Green Paper drew attention to the structural weaknesses and geopolitical, social and environmental shortcomings of the EU's energy supply, notably as regards European commitments in the Kyoto Protocol. The promotion of renewable energy has an important part to play in both tasks. Since 1997, the Union has been working towards the ambitious target of a 12% share of renewable energy in gross inland consumption by 2010. In 1997, the share of renewable energy was 5.4%; by 2001 it had reached 6%.
Number of pages
43p.
Language
English
Description
SEC (2004) 547
COM (2004) 366 final
Publisher
European Commission
Publisher place
Brussels
Collections