11th annual report on the structural funds 1999.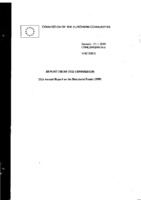 Author
European Commission
Date
2000-10-11
Abstract
This report has been prepared by the Directorate-General for Regional Policy in the European Commission, in collaboration with the Directorates-General for Employment and Social Affairs, Agriculture and Fisheries, together with contributions from the Secretariat-General and the Directorates-General for Economic and Financial Affairs, Enterprise, Competition, Energy and Transport, the Environment, Research, the Internal Market, Education and Culture, the Budget and Financial Control and the European Anti-Fraud Office . The single currency was introduced on 1 January 1999. For convenience and greater consistency, we have decided to denominate all amounts in this Report in euros, even for operations prior to that date. The symbo I '€' in this Report refers to the ecu in the case of amounts concerning the period before 1 January 1999 and to the euro from that date
Number of pages
148p.
Language
English
Description
COM(2000)698 final
Vol.I
URI: http://aei.pitt.edu/id/eprint/40874
he editors have been unable to locate a hard copy or pdf version of thie report. The official URL in this record links to the Eur-Lex record, with an html verion of the report.
Publisher
EU Commision
Publisher place
Brussels
Collections