Regulation of the European Parliament and of the council amending Regulation (EU, Euratom) No. 1141/2014 of the European Parliament and the Council of 22 October 2014 on the statute and funding of European political parties and European political foundations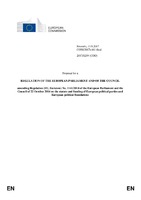 Author
European Commission
Date
2017-09-13
View/Open
Abstract
Democracy is one of the fundamental values on which the European Union is founded. To ensure the functioning of a representative democracy on the European level, the treaties determine that the citizens of the European Union are directly represented in the European Parliament. The right to freedom of association and the right to freedom of expression are fundamental rights of every citizen of the Union. Political parties fulfil an essential role in a representative democracy, creating a direct link between the citizens and the political system, thereby enhancing the legitimacy of the system. The same happens at European level: according to Article 10 of the Treaty on European Union, "political parties at European level contribute to forming European political awareness and to expressing the will of citizens of the Union". Article 12(2) of the Charter of Fundamental Rights of the European Union expresses the same principle. Fostering political debate across Europe on European issues through vibrant European political parties is a long standing Commission objective.
Number of pages
17p.
Language
English
Description
COM(2017) 481 final, 2017/0219 (COD)
2017/0219 (COD)
Publisher
European Parliament
Publisher place
Brussels
Collections
Related items
Showing items related by title, author, creator and subject.
European Commission. Directorate General for Employment, Social Affairs and Inclusion

;

European Union. European Commission. Directorate General for Press and Information.

(

European Commission

,

2013-11

)

European Union. European Centre for the Development of Vocational Training.

(

Publications Office of the European Union

,

2008

)

European Union. European Commission. Directorate-General for External Relations.

(

Office for Official Publications of the European Communities

,

2007

)

This brochure presents an overview of the EU human rights and democratisation policy, including human rights promotion in the EU's legal system; tools and mechanisms under the Common Foreign and Security Policy (including ...