Regulation of the European Parliament and of the council amending Regulation (EU, Euratom) No. 1141/2014 of the European Parliament and the Council of 22 October 2014 on the statute and funding of European political parties and European political foundations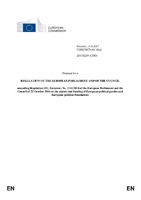 Συγγραφέας
European Commission
Ημερομηνία
2017-09-13
Προβολή/Άνοιγμα
Περίληψη
Democracy is one of the fundamental values on which the European Union is founded. To ensure the functioning of a representative democracy on the European level, the treaties determine that the citizens of the European Union are directly represented in the European Parliament. The right to freedom of association and the right to freedom of expression are fundamental rights of every citizen of the Union. Political parties fulfil an essential role in a representative democracy, creating a direct link between the citizens and the political system, thereby enhancing the legitimacy of the system. The same happens at European level: according to Article 10 of the Treaty on European Union, "political parties at European level contribute to forming European political awareness and to expressing the will of citizens of the Union". Article 12(2) of the Charter of Fundamental Rights of the European Union expresses the same principle. Fostering political debate across Europe on European issues through vibrant European political parties is a long standing Commission objective.
Αριθμός σελίδων
17p.
Γλώσσα
Αγγλικά
Σημείωση
COM(2017) 481 final, 2017/0219 (COD)
2017/0219 (COD)
Εκδότης
European Parliament
Τόπος έκδοσης
Brussels
Συλλογές
Σχετικές εγγραφές
Προβολή εγγραφών σχετικών με τίτλο, συγγραφέα, δημιουργό και θέμα.
European Commission. Directorate General for Employment, Social Affairs and Inclusion

;

European Union. European Commission. Directorate General for Press and Information.

(

European Commission

,

2013-11

)

European Union. European Environment Agency

(

Office for Official Publications of the European Communities

,

1999

)

European Commission. Directorate General for Research & Innovation

;

European Commission. Directorate-General for Communication

(

European Commission

,

2013-11

)