Human Rights and business – Recommendation CM/Rec(2016)3 of the Committee of Ministers to Member States (2016)
Droits de l'homme et entreprises - Recommandation CM/Rec(2016)3 du Comité des Ministres aux États membres (2016)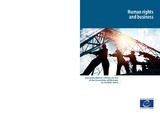 Συγγραφέας
Council of Europe
Ημερομηνία
2016-10-01
Προβολή/Άνοιγμα
Περίληψη
Building on the 2011 UN Guiding Principles, the Committee of Ministers of the Council of Europe adopted Recommendation CM/Rec(2016)3 on human rights and business, a text that provides more specific guidance to assist member States in preventing and remedying human rights violations by business enterprises and also insists on measures to induce business to respect human rights. The Recommendation elaborates on access to judicial remedy, drawing on Council of Europe expertise and legal standards in the field (civil and criminal liability, reduction of judicial barriers, legal aid, collective claims etc). It puts special emphasis on the additional protection needs of workers, children, indigenous people and human rights defenders.
Αριθμός σελίδων
29p.
Γλώσσα
Αγγλικά
Γαλλικά
Σημείωση
Sur la base des Principes directeurs des Nations Unies de 2011, le Comité des Ministres du Conseil de l'Europe a adopté la Recommandation CM/Rec(2016)3 sur les droits de l'homme et les entreprises, un nouvel instrument qui offre des recommandations plus ciblées pour aider les Etats membres à prévenir et corriger les atteintes aux droits de l'homme commises par les entreprises, et met l'accent sur les mesures visant à inciter les entreprises à respecter les droits de l'homme. La recommandation développe le thème de l'accès aux mécanismes judiciaires et se fonde sur l'expérience et les normes juridiques du Conseil de l'Europe dans ce domaine (responsabilité civile et pénale, élimination des obstacles judiciaires, aide juridictionnelle, réclamations collectives, etc.). Elle souligne les besoins de protection particuliers des travailleurs, des enfants, des peuples autochtones et des défenseurs des droits de l'homme.
Εκδότης
Council of Europe
Σχετικές εγγραφές
Προβολή εγγραφών σχετικών με τίτλο, συγγραφέα, δημιουργό και θέμα.
Council of Europe

(

Council of EuropeParis

,

2016-10-01

)

People's rights are ... threatened by the impact of the economic crisis and growing inequalities. ... European societies have suffered the effects of the recent economic crisis, which has deeply affected social cohesion ...

European Commission

(

Commission of the European Communities

,

2001-06-06

)

European Commission

(

European Commission

,

2010-04-21

)